Intacct vs. NetSuite: Best-of-Breed or Software Suite
Intacct and NetSuite are two of the more popular cloud accounting software packages on the market. Considering the wide variety of accounting products available to mid market companies, and the overwhelming amount of comparison information available online, here is a quick overview that describes a few similarities and one big difference between these two platforms.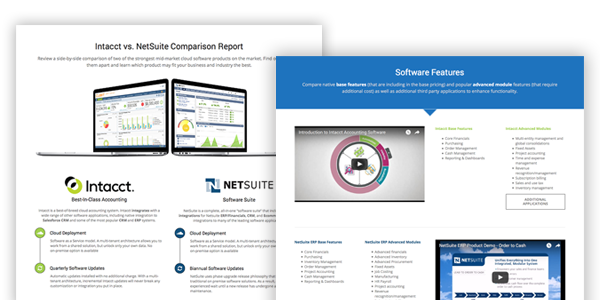 Intacct vs. NetSuite Comparison Report
Review a detailed side-by-side online comparison of two of the strongest cloud products. Compare software deployment, industry strengths, features, implementation, pricing, reviews and more. Which software is right for you?
Similarities between NetSuite and Intacct
Both Intacct and NetSuite live in "the cloud," meaning there are no files to worry about on your internal server and your IT department won't have to help with implementation. Even better, cloud software means that both in-office and remote users can access financial data from anywhere. This can be helpful when your accounting team is spread over many locations or when individuals need access to financial reports while traveling. The cloud also means that your data is safe, encrypted and backed up at all times.
Intacct and NetSuite both provide functionality that is more advanced than small business accounting systems like QuickBooks or Sage 50. Both systems incorporate features that are critical for businesses with complex organizational structures, international locations and multi-faceted reporting needs.
Also, both Intacct and NetSuite are highly customizable and can be tailored to the needs of mid market businesses. Both will capably support the complex, changing accounting needs of large, growing businesses.
What's the Biggest Difference between NetSuite and Intacct?
The biggest difference between NetSuite and Intacct is philosophical. NetSuite is a complete, all-in-one "software suite" that includes customer relationship, enterprise resource planning and accounting modules. Intacct, on the other hand, is a stand-alone, best-of-breed cloud accounting system. Intacct integrates with a wide range of other software applications, including some of the most popular CRM and ERP systems on the market.
Because of this "all-in-one" philosophy, if your accounting department chooses NetSuite, your sales team and other important stakeholders will have to choose NetSuite too. This can be a big limitation when various departments within your organization have diverse needs that might not be met by a single software provider.
Even if your business only implements the Financial module of NetSuite, their all-in-one philosophy means that NetSuite was designed for businesses to use the whole suite of modules. So in order to achieve the workflow, processes or reporting you need your business might have to implement modules you don't want. This could add unnecessary implementation cost and increase the complexity of your day-to-day accounting tasks.
At Cargas, we believe in Intacct's "best of breed" approach. It is a robust, customizable, flexible cloud accounting system that doesn't tie your entire organization into a one-size-fits-all tool.
With Intacct, you gain the advantages of a powerful accounting system that integrates seamlessly with other "best of breed" platforms. This means each department within your organization has the flexibility to choose the perfect tool for their own unique needs. SalesForce, Microsoft Dynamics, and various inventory management systems are just a few of the many integrations available.
Even better, Intacct has been designed with future integrations in mind. Thanks to a flexible API, or advanced programming interface, it is easy to build custom integrations with just about any other cloud software application. The options are almost limitless. In fact, 75% of Intacct customers integrate their system with at least two other cloud software platforms.
At Cargas, we help mid-sized businesses implement and integrate accounting, CRM and ERP systems. So if you're interested in learning more about Intacct and cloud accounting software, please contact us today.
Intacct vs. NetSuite Comparison Report
For a more detailed comparison check out our Intacct vs. NetSuite Comparison Report covering everything from software pricing, deployment, implementation, training and support options to industry strengths, company histories and software reviews.