Intacct Demo Overview
Learn what sets Intacct apart from the competition. This short video (11 minutes) gets right into the software and is guided by a Cargas software consultant. The demo overview highlights key Intacct features including User-Friendly Interface, User Roles, Reporting, Dashboards & Performance Cards and Dimensions.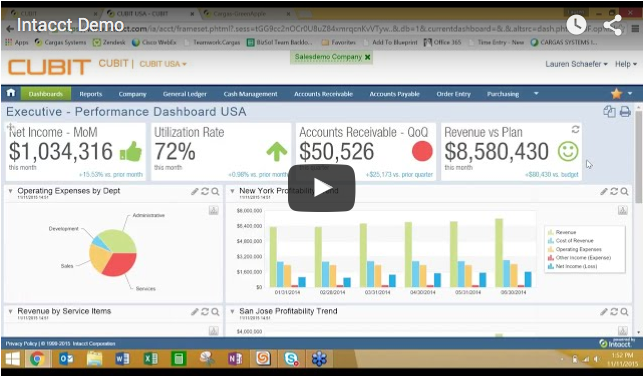 Is Intacct Cloud Accounting Right For You?
cargas-admin
Cloud Accounting Software That Moves At The Speed Of The Entertainment Industry The entertainment industry is not for the faint of heart. Perhaps no other industry is as subject to the whims, trends, [...]
cargas-admin
Intacct vs. Sage: Built for the Cloud or On-Premise Choosing the right accounting solution for your industry and operation can be fraught with challenges. How complicated are your budgeting and forecasting needs? What are [...]
cargas-admin
Tel Hai Retirement Community, Honey Brook, PA Solution: Intacct Cloud Accounting Nestled in the scenic rolling hills of Chester County, PA, Tel Hai Retirement Community provides [...]
Find out why working with a partner like Cargas could improve your implementation speed, success rate and save you some money along the way.
Six costly problems that keep CFO's awake at night… and how they get back to business and get some rest.