Intacct Demo Overview
Learn what sets Intacct apart from the competition. This short video (11 minutes) gets right into the software and is guided by a Cargas software consultant. The demo overview highlights key Intacct features including User-Friendly Interface, User Roles, Reporting, Dashboards & Performance Cards and Dimensions.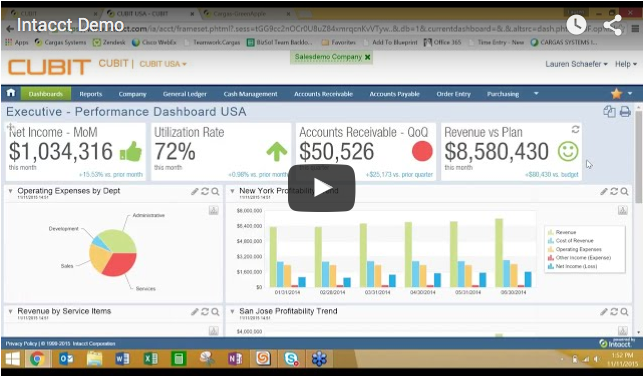 Is Intacct Cloud Accounting Right For You?
cargas-admin
The Lancaster Barnstormers, Lancaster, PA Solution: Intacct Cloud Accounting The Lancaster Barnstormers are a professional baseball team in the Atlantic League of Professional Baseball. Based in Lancaster, PA, the [...]
cargas-admin
Intacct vs. QuickBooks: Best-of-Breed or Small Business Software Ask small business owners what accounting system they are using and you'll most likely hear the same answer, "QuickBooks". This is not surprising since QuickBooks is [...]
cargas-admin
Nexonia provides the deepest Intacct integrations on the market. Watch a 5-minute demo of Nexonia Expenses for Intacct. [...]
Find out why working with a partner like Cargas could improve your implementation speed, success rate and save you some money along the way.
Six costly problems that keep CFO's awake at night… and how they get back to business and get some rest.