Sage Intacct Demo Overview
Learn what sets Sage Intacct apart from the competition. This short demo video, guided by a Cargas Sage Intacct consultant, gets right into the software, highlighting key features like the User-Friendly Interface, User Roles, Reporting, Dashboards & Performance Cards, and Dimensions.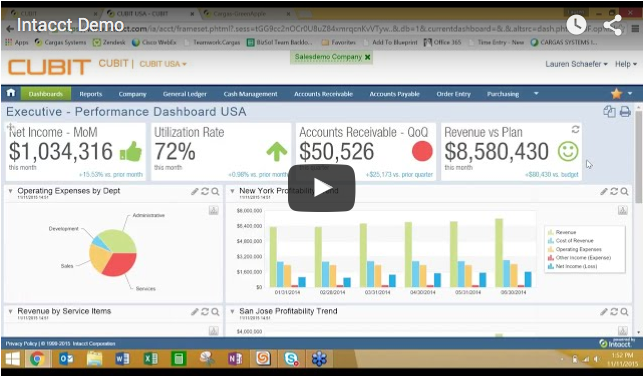 Is Sage Intacct Cloud Accounting Right for You?
cargas-admin
The Benefits of Working with a Sage Intacct (VAR) Partner Implementing a new accounting system can be a difficult and time-consuming undertaking. With so much riding on a successful outcome, planning and smart [...]
cargas-admin
Supercharging Sage Intacct's Budgeting and Forecasting Functionality Sage Intacct is a leader in cloud-based ERP and financial management software, and for good reason. It's best-in-class flexibility and versatility are due in large part [...]
cargas-admin
Sage Intacct: The Single Best Multi-entity, Multi-location, and Multi-currency Consolidation Accounting Software Congratulations! Your business has grown into several entities, locations or possibly countries. You have locations around the country or world, possibly [...]