Keystone Novelties, Lancaster, PA
Solution: Microsoft Dynamics CRM
In 2012, Jack May (Managing Director) and his partner acquired Keystone Novelties, LLC, a leading Pennsylvania seller of fireworks. Formerly a division of Keystone Fireworks (a business that operates fireworks superstores throughout PA), Keystone Novelties sells its fireworks from tents in nine states from Rhode Island to Georgia.
Prior to when May and his partner owned the business, Keystone Novelties had 360 tents set up to sell its inventory of sparklers, fountains, and other novelty items. The bulk of Keystone Novelties' sales occur the ten days around the 4th of July holiday each year.
May wanted to grow the business significantly—you might say, "with a bang"—during that ten-day window.
In 2015, the company will have over 500 locations. But May shares getting there presented challenges they couldn't overcome on their own.
The Problem: A Data Control Dilemma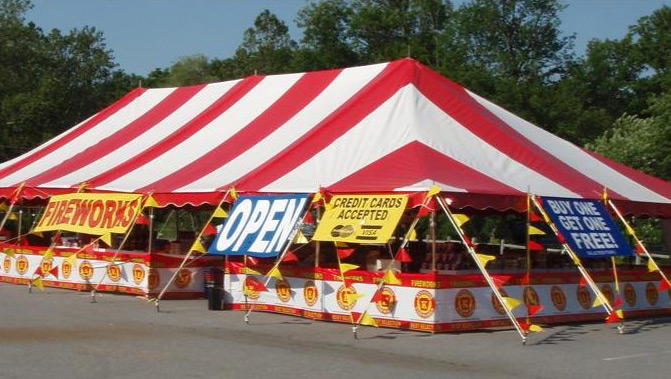 "We view our business as a logistics business rather than a fireworks business," explains May. "There's a lot to coordinate in getting everything ready for an intense 10-day sales season."
Prior to when Keystone Novelties' tents are set up for business, the company needs to hire hundreds of people to staff their locations. They also need to secure lease agreements with a variety of property owners and obtain operating permits (often two to three permits for each location) with hundreds of different townships and municipalities.
As they strived to meet their targets for growth, managing all of that information put pressure on the legacy technology they were using.
"Initially, we had been tracking all of that information in six separate Excel spreadsheets," shares May. "It was impossible to keep records up to date and we risked having important details slip through the cracks. We knew we needed a better way to control our data as we worked through the process."
Problem Solved: Microsoft Dynamics CRM and Cargas Expertise
To overcome the technology constraints that were thwarting their ability to grow their company, May and his partner turned to Cargas Systems in late 2013. In July 2014, the company had the integrated database solution they needed.
Cargas implemented Microsoft Dynamics CRM to give Keystone Novelties the centralized data control they required to more smoothly work through all the logistics involved with their business.
"They took the out-of-the-box solution and configured it to meet our very specific needs," says May. "Cargas's Dave Packard found where our needs and the features, functions, and the capabilities of the Microsoft CRM intersected. Besides his expertise with the Microsoft CRM, he also understood our business needs and goals."
Results Worth Celebrating
With implementation of the Cargas solution, Keystone Novelties has increased its number of sales sites by 47% since they bought the business in 2012. According to May, they've only increased their permanent staff by one employee.
"We never could have achieved that scale without gaining better control over our information," explains May. "Cargas has given us the efficiency of using a single database, and the solution has drastically reduced human error and mistakes."
"As a logistics business, having control over data is the lifeblood of our business. We all feel very good about where we are and where we're headed because of the control we've gained because of Cargas's expertise."