Microsoft Dynamics GP New Features Overview
What's new with Micr​osoft Dynamics GP 2016​ R2 and RTM​? Dynamics GP 2016 introduces powerful features and capability enhancements across the product to optimize daily operational and financial processes, improve collaboration, BI and reporting, and deepen interoperability with other Microsoft products such as Microsoft Office 365, Microsoft Azure and Microsoft PowerBI.
.
Microsoft Dynamics GP 2016 R2
Business Intelligence changes
SmartList favorite protection
SmartList Designer SmartLists available in Advanced Lookups
Support secure connection to Management Reporter service
Power BI on Web Client Home page
System-wide enhancements
Indicate the name of person editing a batch in the message "Batch is being edited by another user"
Financial enhancements
Distribution Line Display opens expanded
Credit Limit Warning Calculation for unposted Credit Documents POP to FA Link to Include Taxes
Link credit card invoices to original invoices
Add Bank Rec history table and do transaction history removal. Save Fixed Asset ID with suffix
SafePay file displays Check Name from the Check
Distribution enhancements
Display Tax Percent for Historical Transactions
Cancel PO when linked to a Requisition
Human Resources and Payroll enhancements
Track history on Termination / Rehire Dates
Allow payroll user to print using self-service W2 report
Project Accounting enhancements
PA Timesheet Status Report
PA Line Item Distributions added for all transaction entry windows in Project Accounting
Microsoft Dynamics GP 2016 RTM
System-wide changes
Web Client enhancements
Ability to scan multiple pages
Word templates for batch approval workflow Workflow condition management
Workflow reassignment notifications Configurable OData Service points added OData Service deployment enhancements
Business Intelligence enhancements
Import and export SmartLists from SmartList Designer
SmartLists created in SmartList Designer have default columns defined in the SmartList Options window
Export numbers to Excel, formatted as numbers
Power BI reports can be added to home pages
Create SmartList from the Favorite using SmartList Designer
Financial enhancements
Budget import exception report
Scotia Bank EFT format added as a default EFT file format Analytical Accounting user access settings
Payables batch credit card payment option
Edit attachments that flow to transactions
Deposit cash receipts batches automatically
Distribution enhancements
All-in-one document view for sales and inventory transactions
Prepay purchase order total
Project Accounting enhancements
Project expenses – document attachments
Project Accounting fields in Purchase Requisition Entry
Add Unit Cost field in PTE Employee Expense window
Project Time Entry reports added
Payroll enhancements
Inactive pay codes lookup option
Enhanced Payroll posting accounts setup
What's New In
Microsoft Dynamics GP
2016 R2
Download the whitepaper document that lists enhancements that have been made to Microsoft Dynamics GP following the release of GP 2015.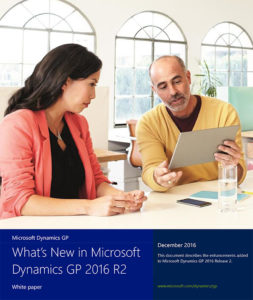 Is Microsoft Dynamics GP Right For You?