You may recently have heard or read about changes occurring with MS Dynamics GP Management Reporter (MR). Here is a recent statement from Pam Misialek from Microsoft:
"Management Reporter for Dynamics GP will continue to be supported and ship now and in the future releases of Microsoft Dynamics GP. Large features like going fully to the cloud and other major enhancements will not be made to Management Reporter for Dynamics GP.
The Management Reporter for Dynamics GP product will not be discontinued."
Pretty ambiguous right? The main takeaway from all of the current noise about Management Reporter is "Don't Panic." Understand at this point that MR is not being discontinued. We will still receive MR with future releases of GP and there will still be support for MR at least in the foreseeable future. The product lifecycle for versions of GP and MR provide for 5 years of mainstream support and 10 years of extended support.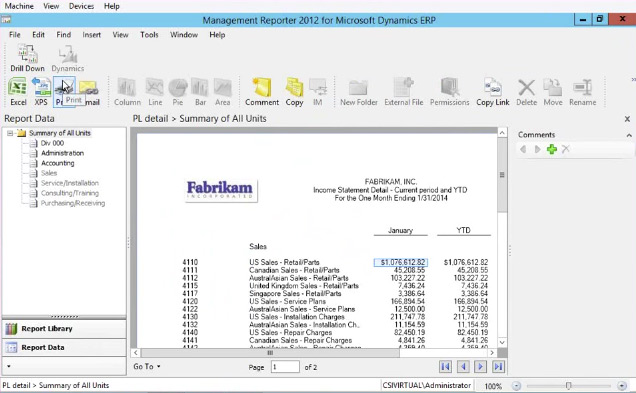 Jet Reports For Dynamics GP?
There has also been a recent announcement by Microsoft to partner with Jet Reports, an Excel based reporting tool, and to bundle their reporting solution with the Dynamics GP product. This same product has been in use for some time in the Microsoft Dynamics NAV product. Here is a link to the Jet Reports announcement. (http://msdynamicsworld.com/story/microsoft-and-jet-reports-announce-excel-based-reporting-dynamics-gp).
What is our take on all of this? Microsoft's recent strategy has been to focus on their cloud story, part of which is the GP Web Client. MR does not run on the web client, and Microsoft has decided to not pursue this development. Another strategy has been to focus on Excel as the "go to" reporting tool. The partnership with Jet Reports is a way to further these two strategies. We have also witnessed a lack of focus on adding functionality to MR even to match all that was available in FRx, but the product is hotfixed and supported. So, if MR is working well for you, it's not going anywhere anytime soon. If MR hasn't been working well for you, there are other options available.
Takeaway
Reporting tools hardly ever land in the "one-size-fits-all" category and what works for one organization may not work for another. For this reason, the Cargas Systems Business Solutions Team is always looking at alternatives that may suit the specific needs of our customers. With the recent announcements from Microsoft, the Cargas Business Solutions Team is currently talking with third party reporting solution providers and will continue to follow Microsoft's progress with their current offerings.
Stay tuned for more news regarding the results of our review and comparison of solutions.