Why Microsoft CRM? The Advantages of Dynamics 365
Microsoft Dynamics CRM has offered growing and mid-market organizations a powerful solution to manage business relationships. With the launch of Microsoft Dynamics 365 at the end of 2016, Microsoft extended the core functionality of its CRM solution, offering businesses new and enhanced tools to transform their sales, marketing, and customer service processes.
The practical functionality of Dynamics 365 CRM allows employees to be more productive and knowledgeable and offers executives deeper insight into performance, opportunities, and customer relationships. The sales automation, customer service, and project service modules align to streamline the way businesses communicate with customers, prospects, and team members.
Why do businesses choose Microsoft Dynamics 365 CRM over the competition? It's fairly simple:
Its familiar and intuitive user interface ranks among the highest in user adoption.
Its connection with other Microsoft products, such as Outlook, Office 365, Windows Server, Exchange Server, Skype for Business, SharePoint, Power BI, and PowerApps, offers a huge advantage.
Its powerful built-in tools like LinkedIn Sales Navigator Application Platform (SNAP) and Relationship Assistant improve productivity and efficiency.
Its flexible architecture, deployment options, and pricing allow for easy customization to tailor the system to meet business's unique needs.
Microsoft's commitment to the product and partner support points to the longevity and quality of the system.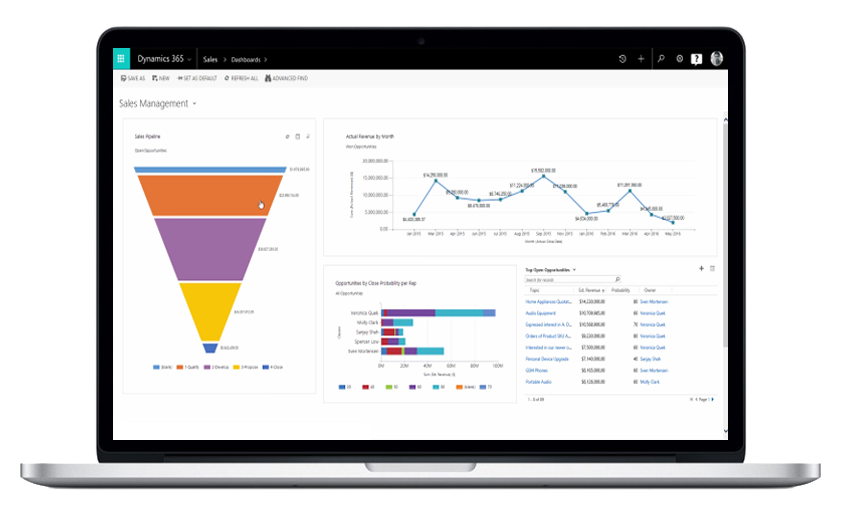 Capabilities
Dynamics 365 is a collection of apps capable of managing any business process, from sales and operations to accounting and HR. The apps can be used individually or collectively depending on the unique needs of your business, so you can adapt the best solution to fulfill your individual requirements. Those specifically related to CRM are: Sales, Marketing, Customer Service, Field Service, and Project Service automation.
Microsoft Platform
There are numerous advantages of the Microsoft platform and some specific features of Dynamics 365 CRM that set it apart from the competition.
Seamless Integration. The Dynamics 365 CRM applications can be paired with other Microsoft tools, including all of the Dynamics 365 and Office 365 apps. While this may seem like a given feature, it has a major impact on productivity and performance.
With Dynamics 365's integration to Outlook, you can view existing customer information, sales activities, cases, and opportunity information directly in your Outlook screen. You can also complete CRM tasks such as adding new leads, adding a task, appointment, or phone call to a customer record, and tracking emails to CRM records directly from Outlook.
And the functionality doesn't stop with Outlook. Here are some other features you can utilize because of Dynamics 365's integration with Office 365:
Import customer data from Dynamics 365 into Microsoft Word or Excel templates. Run analytics with Excel online directly within Dynamics 365, or link data from Dynamics 365 to Excel spreadsheets that will update dynamically and maintain Dynamics 365's security permissions.
Access anything you capture in OneNote directly from a Dynamics 365 customer record.
Easily import data from Dynamics 365 into Power BI to analyze it against other information. Even better, feed data from Dynamics 365 into Power BI dashboards so the information you're most interested in is always at your fingertips.
Access SharePoint calendars and documents directly from Dynamics 365.
Use Skype for Business to call anyone directly from Dynamics 365. Or use Skype to hold webinars and whiteboard discussions and immediately follow up with Dynamics 365.
See your Office 365 Group calendars and documents in Dynamics 365, right next to the relevant customer information.
Just as Dynamics 365 CRM integrates with Office 365, it also integrates with all of the other Dynamics 365 applications. This means you have the power to pick and choose which applications are right for your business. And if you want to make an addition, it's a simple matter of updating your Microsoft license. Furthermore, because all of the applications are from Microsoft, upgrades are their responsibility, and you don't have to worry about managing integrations with third-party solutions.
PowerApps. This unique tool from Microsoft gives you the power to build custom applications quickly and easily without code or technical expertise. It pairs with the full array of Microsoft products, including Office 365 and Dynamics 365, meaning you can leverage data from any program and deploy it in a web or mobile app.
LinkedIn Sales Navigator Application Platform (SNAP). In 2016, Microsoft bought LinkedIn, which means LinkedIn also integrates with Dynamics 365. LinkedIn SNAP allows your sales team to leverage the full power of LinkedIn directly through Dynamics 365. In SNAP, you can search the LinkedIn network to identify leads and save them as CRM records. SNAP will also recommend leads based on your searches. View full LinkedIn profiles directly in SNAP to identify a prospect's current company, position, tenure, and location. Receive notifications when prospects make updates to their profiles, like job changes or new connections with someone in your network. Use SNAP to request an introduction to a lead through a mutual connection, or use LinkedIn's messaging functionality directly through SNAP to reach out.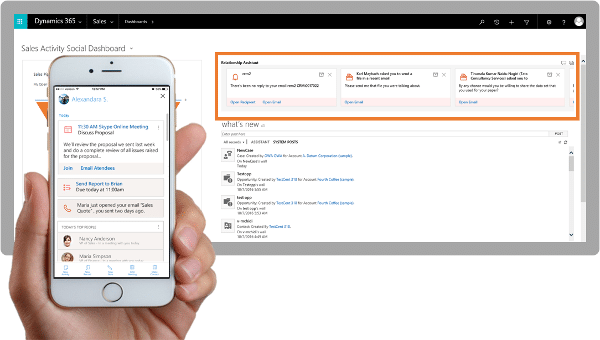 Relationship Assistant. This handy little tool is still in beta, but it's available for you to try now. As the name indicates, the Relationship Assistant tracks your activities, opportunities, and messages and generates action cards that will appear on your dashboard and relevant records in Dynamics 365. It can alert you to upcoming meetings, remind you to follow up on an opportunity, or notify you of a customer question or request. In addition to alerts and reminders, the Research Assistant connects to Outlook and can track email activity like opens, replies, attachment views, and link clicks directly in Dynamics 365. It will also suggest emails from your Outlook account that you may want to track in Dynamics 365.
Flexibility & Insights
Each Dynamics 365 app is built on the same common platform, which allows you to adapt Dynamics 365 to your specific needs. You can define your own dashboards to bring forward the graphs, reports, and information that are most relevant to your role.  The platform includes powerful and flexible workflow tools that allow you to automate processes in the system, including sending emails, scheduling follow-up activities, and updating record statuses. Finally, the customization tools allow you to define additional fields of information and new objects in the system.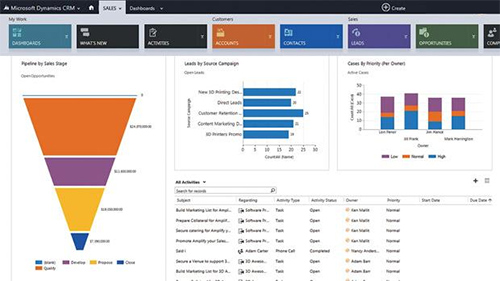 Deployment Options
In addition to allowing you to assemble the collection of apps that best suits your business and customizing them to fit your needs, Dynamics 365 has a number of deployment options, including cloud, on-premise, or partner hosted. The software can be accessed from Outlook, a web browser, or any internet-enabled mobile device. Simply put, Dynamics 365 gives you the choice to select the best model for your business.
Pricing
With Dynamics 365, you get more functionality at a lower price point than competitive CRM systems. And, speaking of flexibility, Microsoft offers three tiers of users with different levels of access and pricing for each one. This way, you can make the most out of your investment by paying for full access only for those users who truly need it.
Microsoft's Commitment
Microsoft has made a huge investment in Dynamics 365 and is truly striving to make it the one stop shop for business software solutions. While they will continue to support legacy solutions, Microsoft's focus and efforts are clearly centered around Dynamics 365. If history is any indication, that means the advantages of Dynamics 365 are only just beginning. The existing features and functionality will continue to improve, and some cool stuff will be coming in the future, like the new user interface Microsoft has been talking about.
Microsoft is committed to its partner channel approach as the best way to scale their business while still providing quality customer care. You might find it hard to believe, but Microsoft actually prefers that customers purchase their software through their partner channel rather than from Microsoft directly! Microsoft Cloud Solution Providers (or CSPs) are available to help you select the right solution for your business and offer ongoing service and support.
Cargas Systems was the first certified Microsoft CRM partner in the world and became a CSP in 2016 with the launch of Dynamics 365. The Cargas CRM team of consultants and developers has the experience and expertise necessary to evaluate your business processes and tailor a CRM solution to fit your specific requirements. Whether you need a rapid implementation or a complex customization with multiple integrations, our proven processes and adaptable project management will keep your project on track and help you get the most out of your solution with the least amount of disruption to your business.
Why Do Businesses Choose Dynamics 365 CRM?
It's easy to use
It integrates to the full array of Microsoft products
It has powerful tools that will change your business in a meaningful way
It offers options that put you in the driver's seat
It's affordable
It comes with the support of an experienced Microsoft partner
Ready to learn more? Contact us to discuss how Microsoft Dynamics 365 can transform the way you do business.
Is Microsoft Dynamics 365 CRM Right For You?