Dynamics 365 (CRM) Plan 1
Includes these apps:
Sales
Customer Service
Field Service
Project Service Automation
+ Microsoft PowerApps and Microsoft Flow
Individual CRM Apps
Sold Separately
Sales – $95
Customer Service – $95
Field Service – $95
Project Service Automation – $95
+ Microsoft PowerApps – $40
Additional Team Members
Includes light use of these apps:
Sales
Customer Service
Field Service
Project Service Automation
+ Microsoft PowerApps and Microsoft Flow
Access Our Software & Implementation Pricing Calculator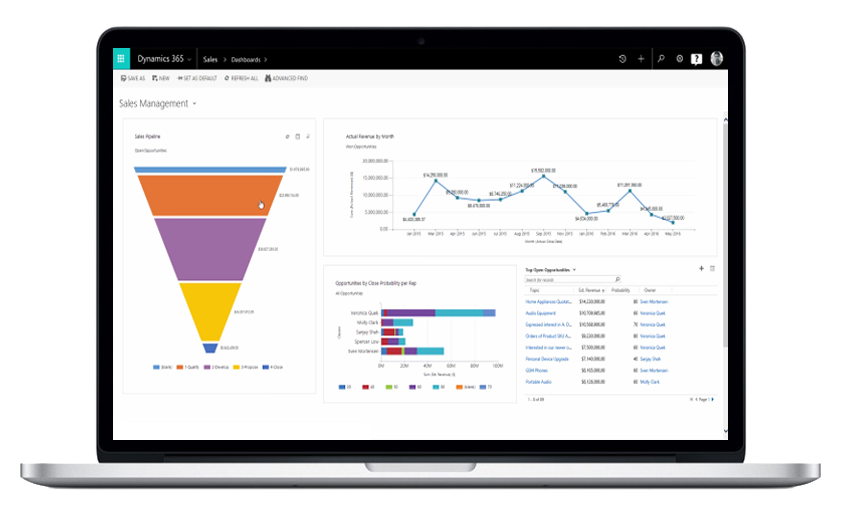 What's Included In The Implementation Services?
The Dynamics 365 implementation and services cost is based on an organization of about 1-20 users, a single business unit, a single sales process, limited data imports and customizations. Larger projects are estimated individually.
A technical assessment phone call with recommendations on license provisioning and other support software.
Implement application
Field customizations for all entities (up to 20 fields per entity)
Form layout for included application entities
Install 1 Outlook client
One dashboard for end users
One initial data load of master records using Cargas provided templates and training on importing
2 three-hour end-user training sessions including best practices
No additional customization or workflow
No integrations
Basic Project Management
Consultant Kickoff Call
Online deployment only
* Pricing calculator is based on Microsoft Dynamics 365 (CRM) Enterprise software user pricing and basic implementation services to generate a ball park estimate based on the criteria provided. This is not an official proposal. For detailed pricing specific to your business including service and implementation costs contact Cargas.
Already Using Dynamics 365 or CRM?
Partner Change Special
Fits companies currently using Dynamics CRM or Dynamics 365 with a desire to make the most of their current investment. Services include assessment and recommendations.
Includes:
License review and advisement
Technical Site Assessment
Application Assessment
Provide documentation of assessment and recommendations
configuration, customization, third parties or training (as needed)
Unlock Calculator Above For Pricing

Is Microsoft Dynamics CRM Right For You?
cargas-admin
What is Microsoft Dynamics? Microsoft Dynamics provides a way to revolutionize your business through streamlined software applications, including enterprise resource planning (ERP) and customer relationship management (CRM) software. Microsoft Dynamics includes several separate [...]
cargas-admin
New Microsoft Dynamics CRM Features - Dynamics 365 For Sales Dynamics CRM functionality is now included as a part of Dynamics 365, a suite of intelligent business applications. New App Model [...]
cargas-admin
To provide a more versatile and robust suite of offerings to businesses of all sizes, Microsoft has announced its November 1, 2016 launch of "Dynamics 365." A 100 percent cloud-based business solution, Dynamics 365 combines [...]