GP has a multitude of features that add convenience, power, and can keep you from shooting yourself in the foot.  Whether you are a GP veteran or a rookie, some of these features are in the setup areas, which are often only visited during an initial implementation.  Furthermore, several of these features are in the Professional Services Tools Library, which the typical end user does not use.  We've collected a few GP favorites that have come up in conversation with customers that we felt needed to be shared.
Several of the recommendations utilize the Professional Services Tools Library (PSTL).  GP Power Users will have access to this on the navigation pane.  The PSTL tools are very powerful, however, they could cause adverse effects if not used carefully.  A database backup would be a best practice prior to using these utilities.
Make the Smartlist button easier to find
The Smartlist button is part of the standard GP toolbar, however, without a label, most users do not know this.  This can be clarified by adding the label to the icon.  To do this, right click on the toolbar and select Customize.  Select the Standard toolbar in the dropdown labeled Choose a toolbar to modify.  Highlight Smartlist, click Modify Selection, and select Image and Text.  The Smartlist icon will now have the label.
Doc Date Verify
When entering payables and receivables transactions, GP looks for entries that are being made to closed periods.  There is an unfortunate side effect to this, however, where a user can mistakenly key an entry to a future, uncreated period.  Since the period is not "closed," GP will allow entry and posting.  Since the period does not exist, the document cannot be voided.
The fix for this is to enable Doc Date Verify in the PSTL.  In the PSTL main screen, select the checkbox (not the radio button) for Doc Date Verify.  You can then select cancel.  This is non-intuitive, but selecting the checkbox enabled Doc Date Verify on the fly.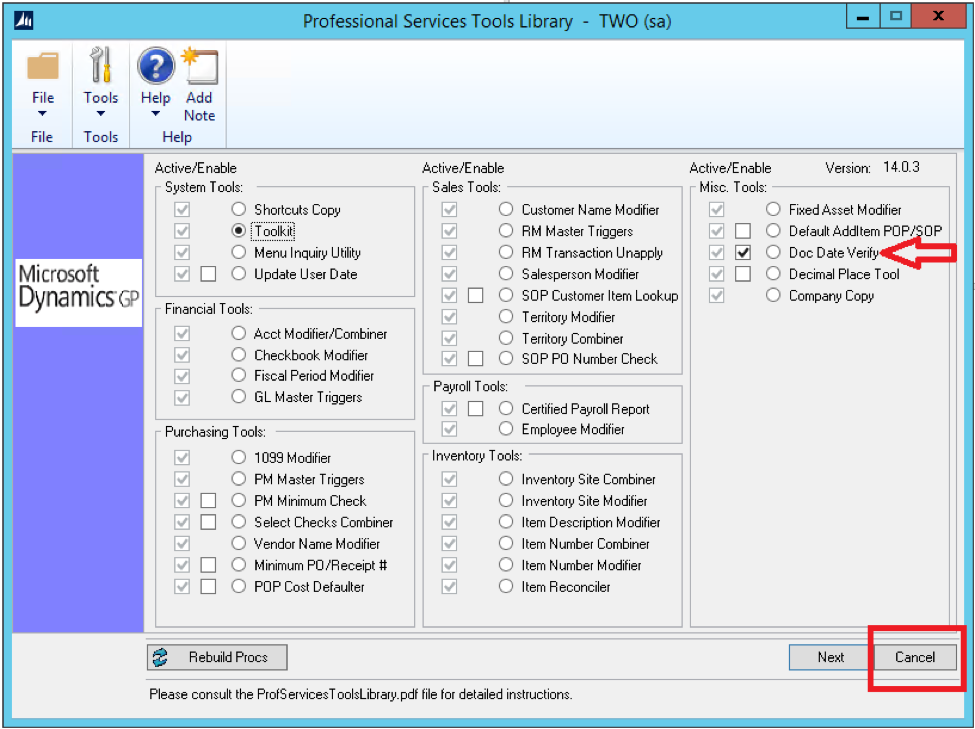 Separate Payment Distributions
This will create a set of entries to debit and credit payables when a transaction and payment are done at the same time.  From the GL perspective, it appears that these transactions were entered separately since we see the in and the out to Accounts Payable.  This can be enabled in the Company Setup Options by navigating to Tools -> Setup -> Company -> Company.  Select the Options button.
Distribution without Separate Payment Distributions enabled: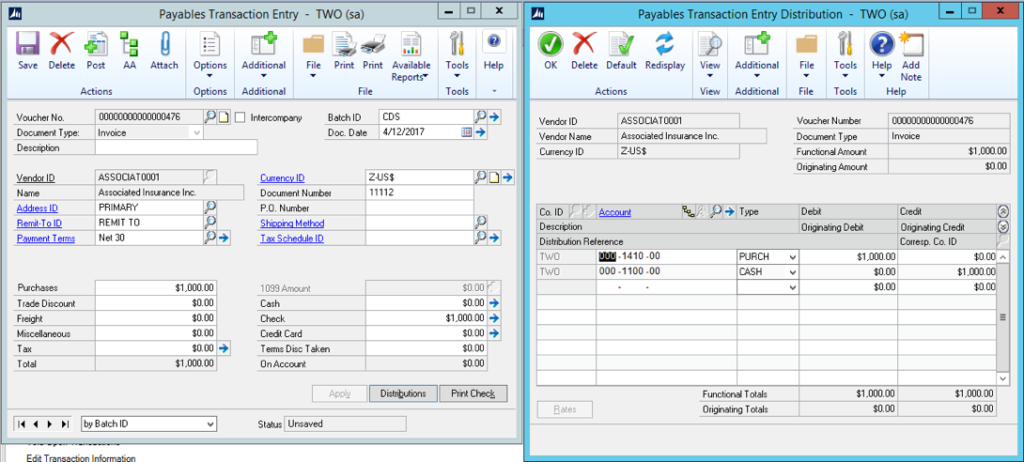 Distribution with Separate Payment Distributions enabled: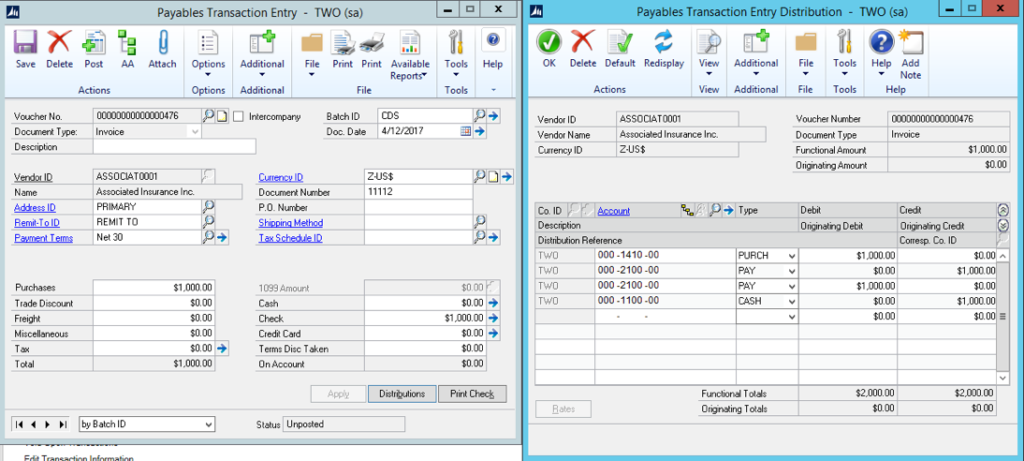 RM Transaction Unapply
This feature is part of the PSTL and will allow you to unapply RM documents after they are moved to history: Credit Memo's, Payments, and Returns.  This is useful if it is discovered that a customer payment has been applied incorrectly after Paid Transaction Removal had been run.
I have frequently heard from clients that they delay running Paid Transaction Removal, or neglect it altogether, because of the need to unapply and reapply checks.  RM Transaction Unapply helps to remove this objection to Paid Transaction Removal.
Allow Account Entry
A frequent complaint is that reconciling sub ledgers to the control accounts can be a headache, all because an erroneous entry was made through a GL entry or worse, an unrelated module.  On the GL Account Maintenance screen, there is a checkbox labelled Allow Account Entry.  Clearing this checkbox prevents entries from being keyed to these accounts.
Entry to these accounts is then only permitted when they are established as the default posting account.  The posting account can be defaulted from a vendor card, customer card, item card, or from the system default.
Recommended use would be on any control accounts:
Cash GL accounts
Accounts Receivable
Accounts Payable
Inventory
Accrued Purchases
Customer deposits (from Sales Order Processing)
Vendor deposits (from Purchase Order Processing)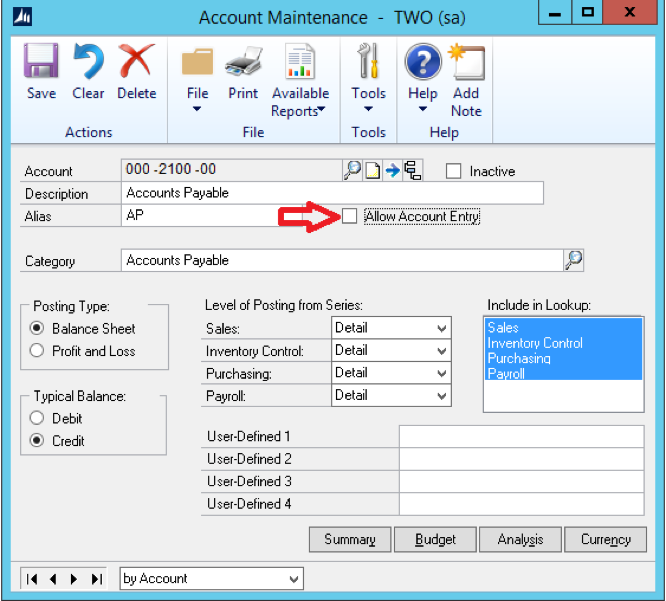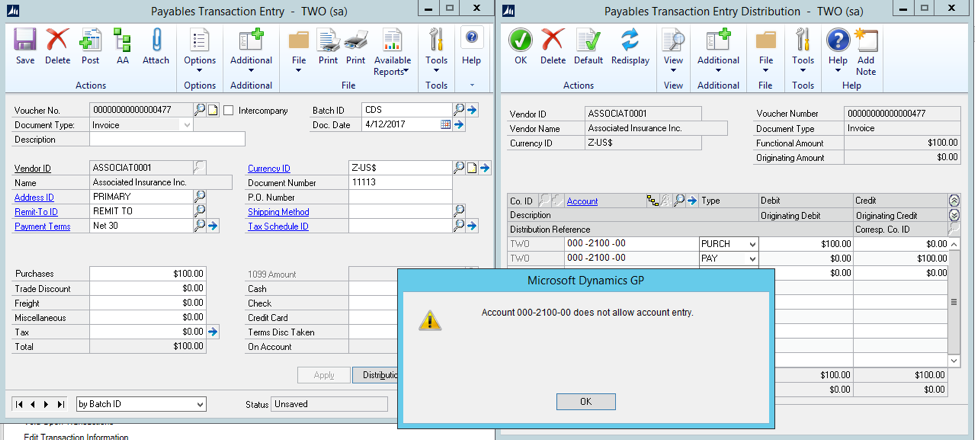 Copy User Settings
Some clients have standardized upon a set of shortcuts for all users.  An issue for these clients is that the Shortcuts setup is specific to each user.  The Shortcuts Copy in the PSTL allows for the shortcuts to be copied from a source user to a destination user.  The utility will advise to run a database backup since it will overwrite the destination shortcuts.
Warn for Open Purchase Orders
Customers using GP distribution or manufacturing are sourcing materials through Purchase Order Processing and receiving in Receivings Transaction Entry.  These steps typically go through a purchasing department working in coordination with a warehouse or inventory manager.  The next step is to match against the inventory receipt using Enter/Match Invoices, and this is where the breakdown often occurs.  Accounts payable is typically using Payables Transaction Entry to make entries to A/P without knowledge of any purchasing processes.
GP2015 brings a new option in the Payables setup window: Warn if Vendor has Existing Purchase Order.  When entering through Payables Transaction Entry, the user will receive a notification that there is an Open or Un-invoiced Purchase Order and is presented with the option to go to the Purchasing navigation list to research.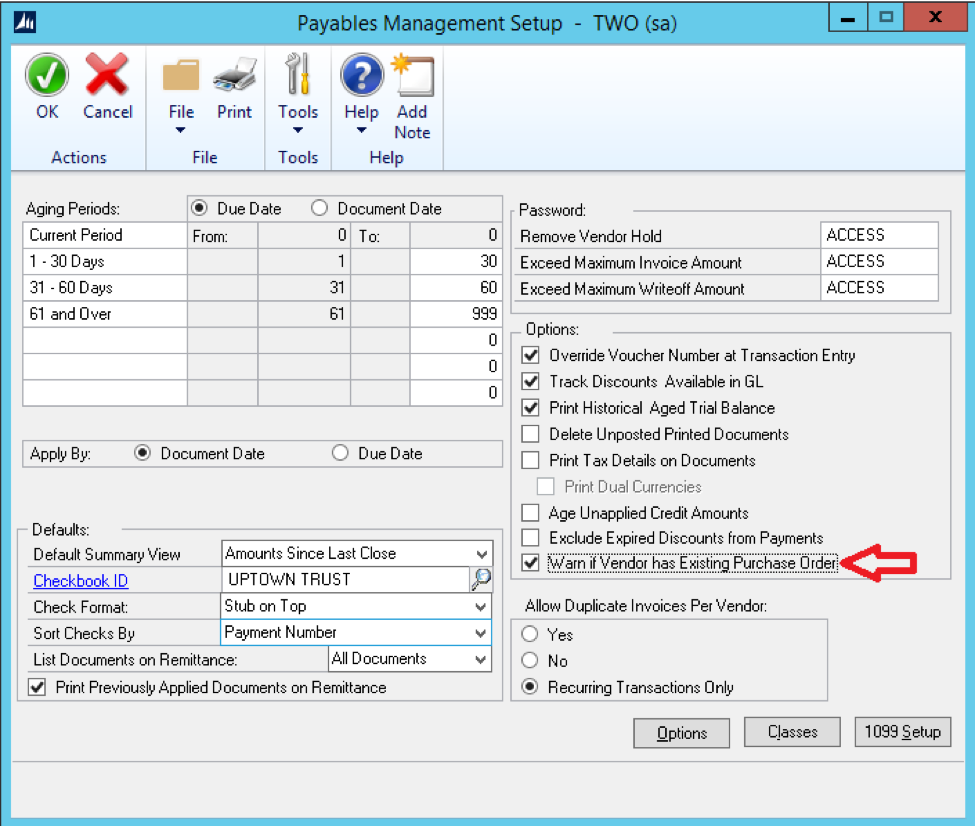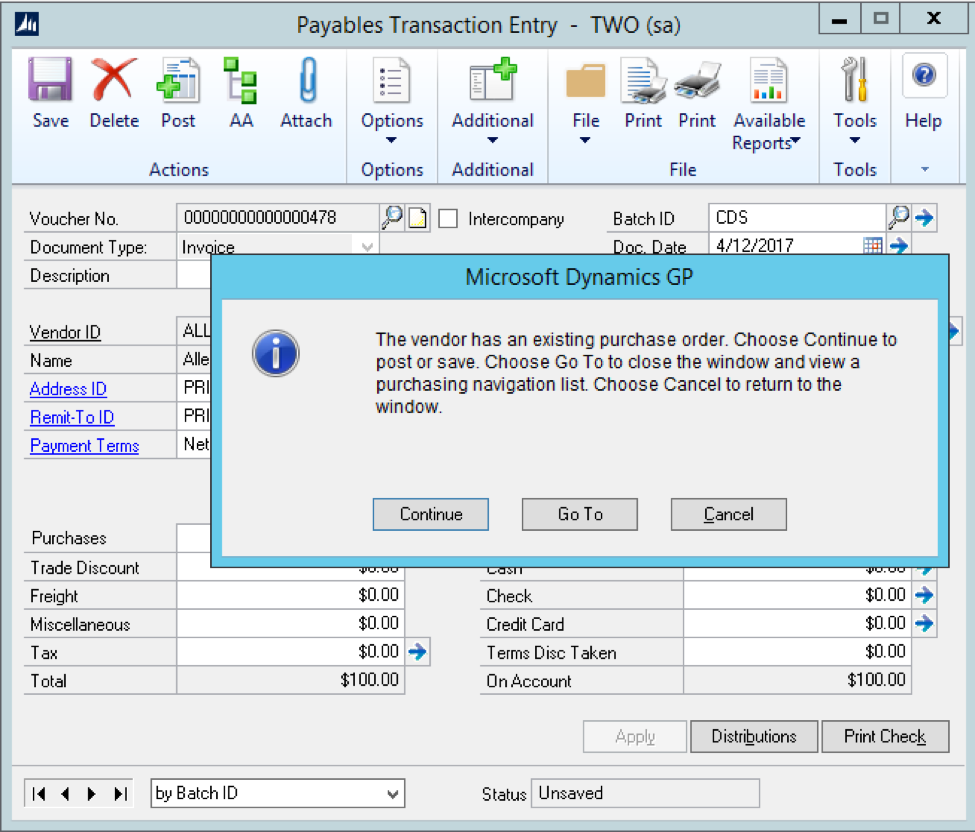 Detail Payroll Activity Tracking
If payroll is going to be used, it is recommended to install the tool called DetailPayrollActivityTracking available here:
https://mbs.microsoft.com/partnersource/northamerica/deployment/downloads/service-packs/NOAM_PSTL
This tool allows you to create Smartlists to track employee changes made, including date the change was made and user.
Customer/Vendor Combiner moved from PSTL to GP
The Customer Combiner/Modifier and Vendor Combiner/Modifier have been included in the PSTL for several versions, but in GP2015, these utilities are now accessible through Utilities in Sales and Purchasing.  If Combiner is selected, all Work, Open, and History transactions in the source Customer/Vendor is merged into the destination Customer/Vendor.  The source Customer/Vendor is then removed from the system.
When Modifier is selected, the Customer/Vendor ID is updated.  As with Combiner, all Work, Open, and History transactions are updated with the new ID.
For large sets of changes, a simple Excel file of source ID's and destination ID's can be imported.  As this process irreversibly updates master and transaction records, a backup would be recommended before making changes.