New Microsoft Dynamics CRM Features – Dynamics 365 For Sales
Dynamics CRM functionality is now included as a part of Dynamics 365, a suite of intelligent business applications.
New App Model
Dynamics 365 (online) introduces a new app model for Dynamics 365 apps and makes accessing these and Office 365 apps fast and easy.
If you're a Dynamics 365 (online) user with an Office 365 subscription, you're just two clicks away from accessing the family of online apps that are available to you, like Word and Excel Online.
These apps come with simplified navigation. For example, in the Customer Service app site map, you'll only see service entities. In addition, there will be a Dynamics 365 – custom app that combines functionality for all roles as before.
The apps you see are based on your organization's licensing options and your security role. The administrator or customizer can also design custom business apps to create a simplified work experience tailored just to the tasks you need to do. For more information on creating custom apps, see TechNet: What's new for administrators and customizers.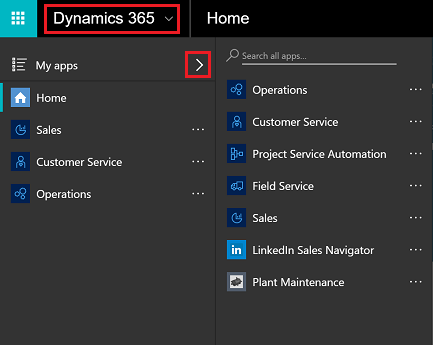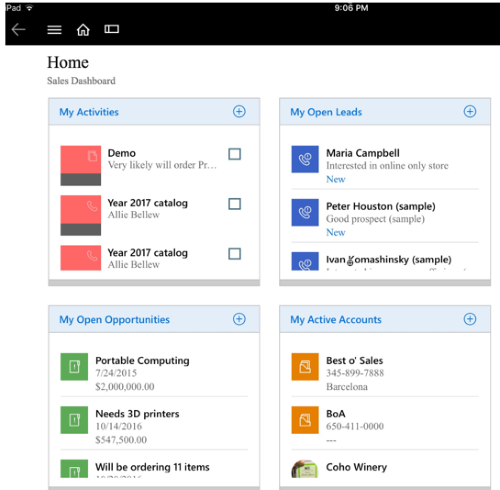 We made the following enhancements to the mobile app:
Meet the mobile workspace: The all-new mobile workspace is a personalized action hub in the mobile app to help you get to common tasks more quickly. A pane that appears when the app is launched, the workspace includes a list of suggested priorities ("action cards") in the left column. These may include upcoming meetings, info relevant to that day's activities, and other things that need your attention. It also has a list of favorite and most recently used items. Items that appear in the Recent feed can be added to Favorites by clicking the Favorites button.
New colors and layouts: The mobile app has new colors and a new look and feel. Layouts are more compact, and optimized to give essential info at a glance with minimal scrolling. The dashboard now stacks related elements, exposing more info at once. Forms also organize items in stacks so you can see more at once, and get the info you need faster. The process bar is now more prominent in forms that use it, so it's more clear where you are in any given process.
Enhanced notes: Taking a cue from social media, the mobile app now lets you create a note in-line when you're in a form, so you can view relevant details while writing your note. Notes now also include a preview of attached images so you can see them at a glance without opening them individually.
Device integration: You can now access your device's camera and other functions from within the app. Open a new or existing note, and tap the icons under the text box to add multimedia content.
Mobile offline: The mobile app will now synchronize data when it's operating in the background, so you can get updated data even while you do other things on your device.Sync conflict resolution has been improved as well. If multiple entries are made in the same field by more than one offline user (for example, two or more "close by" dates), the conflict is clearly marked and you can choose the correct entry.
More information: Dynamics 365 for Phones and Tablets User's Guide
Dynamics 365 App for Outlook enhancements
When you start Dynamics 365 App for Outlook, the app is pinned to the right side of screen. The information displayed in the app shows the recipient list and related info for the selected email message.
With the updated Dynamics 365 App for Outlook, you can:
See info about all email recipients (including distribution lists). Email recipients are automatically mapped to Dynamics 365 contacts, leads, or users, so you can see the recipient's picture (if available), name, job title, company name, business phone, and mobile phone. If a recipient is unknown, you can quickly add the recipient as a contact or lead. You can also set the regarding record with a single click, call the recipient, or add an activity (appointment, phone call, or task).
See more info about contacts and leads in the related records summary. For example, you can see account information for the contact or lead. Click the account to open the record directly in Dynamics 365. Click the Set regarding button to set the regarding record to that account. You can also see related records for opportunities, cases, stakeholders, and competitors (as well as custom entities), and set the regarding record.
Easily set or change the regarding record from pinned records or most recently used records.If you search for a record, you can also take advantage of the new Relevance Search if you're using Dynamics 365 (online) and if your organization opts in. With Relevance Search you can display results from multiple entities in a single list, sorted by relevance. If you're using Dynamics 365 (on-premises), you can continue to use Categorized search.
Create new records for any entity. For example, create a new contact, lead, opportunity, case, or account record. You can also create new records for custom entities.
Track meetings and appointments (in addition to email).
Save time when you're composing a message by using email templates.
Add and attach sales literature or knowledge base articles when you're creating an email message or appointment.
The app is also much faster than before, and it supports all Dynamics 365 and Exchange configurations, including hybrid configurations (Dynamics 365 (online) with Exchange Server (on-premises) or Dynamics 365 (on-premises) with Exchange Online).
More information:
Preview feature: Introducing Relationship Insights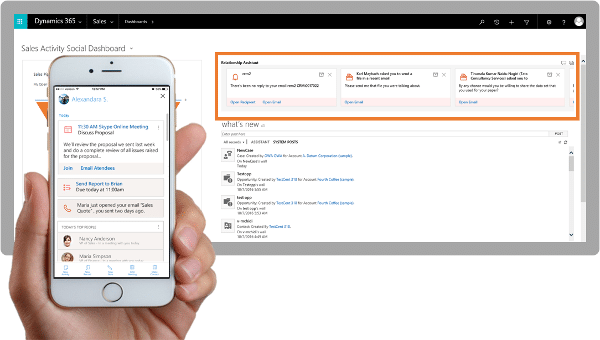 Many sales professionals spend a large part of their day working in Dynamics 365, Microsoft Outlook, and Microsoft Exchange. And the more you use them, the more these systems become filled with invaluable details about your plans, activities, meetings, communications, sales successes, and more. The new Relationship Insights suite of features in Dynamics 365 continuously analyzes this vast collection of customer-interaction data to help you better understand your business relationships, evaluate your activities in relation to previous successes, and choose the best path forward.
Relationship Insights includes the following sub-features, which all work together to amplify their individual strengths:
The relationship assistant is constantly at work, keeping an eye on your activities, plans, data records, and communications with customers. It watches your daily actions and communications and uses them to drive insights that help you focus on what's important today, and how to optimize your communications to help nurture healthy business relationships going forward.
The assistant combines and analyzes all of the information at its disposal and then generates a collection of action cards, which are displayed as your entry point to Dynamics 365 on mobile devices, and as a carousel display on your Web-based dashboards. When working with individual records you'll see the action cards that apply directly to that record (all record types are supported, including custom entities). Thirty different types of cards are available, each of which provides tailored information, helpful links, and action controls for working with that information.
The system reminds you of upcoming activities, phone calls, and meetings; it evaluates your communications and suggests when it might be time to reach out to a contact that's been inactive for a while; it identifies email messages that may be waiting for a reply from you; and it alerts you when an important opportunity is nearing its close date.
Email engagement helps you to create more effective email messages—and to learn how your contacts are interacting with them. Stay on top of your email and prioritize those prospects or customers that are most engaged.
When writing a new message, get started quickly by choosing the most effective content template, with recommendations based on previous open and reply rates.
Create followed email messages, which let you know when a recipient opens the email, clicks a link, opens an attachment, or sends a reply.
Write your messages when it's convenient for you, but schedule delivery for when they're most likely to be noticed and read by recipients. The system even checks recipients' time zones to provide advice about when the best delivery times might be.
Set yourself a reminder for when it's time to follow up on a message. Your reminder is provided as an action card displayed by the relationship assistant, so it will be brought to your attention right away. Each card includes links to help you investigate, act upon, snooze, or dismiss the card.
You can view the status and history of your followed messages anywhere they are shown in Dynamics 365. The current status and most-recent interaction are shown right in the Activities list for any record where the email is relevant, and you can expand the listing to see the full interaction history.
To protect the privacy preferences of your contacts, you can choose to disable followed messages for individual contacts by setting a flag on their contact record.
Dynamics 365 can now analyze your inbox directly on Microsoft Exchange to find all messages that might be relevant to your work in Dynamics 365. The system looks for messages to or from relevant email addresses, and presents you with the relevant messages right in Dynamics 365. With just one click, you can track any of the suggested messages in Dynamics 365, which makes them available to your sales team and also for use by other Relationship Insights features.
You can still track messages in Dynamics 365 in all the ways that you could before, including by using Dynamics 365 App for Outlook or tracked folders. All tracked messages in Dynamics 365 are available to Relationship Insights features.
More information: Preview feature: Relationship Insights overview
Create your own Learning Path content
In Microsoft Dynamics CRM Online 2016 Update 1, we introduced Learning Path, which provides contextually-rich training, walkthroughs, videos, and articles right in the app at just the right time. With December 2016 update for Microsoft Dynamics 365 (online), you can now create your own Learning Path experience for your Dynamics 365 (online) users. For example, create a custom Learning Path experience to train your sales team. Learning Path allows you to deliver custom content specific to the security role assigned to a user. This means, for example, that sales people see Learning Path sidebars and guided tasks specific to their role, and service reps see a different set of content. You can also display different content for the same security role in different organizations. You can even localize your content in different languages for different users and organizations.
Learning Path provides a great way to help people discover new features and become familiar with new forms or business processes at their own pace right from the app. This can help reduce training time and costs and enable team members to quickly become productive using Dynamics 365 (online).
More information:
Relevance Search enhancements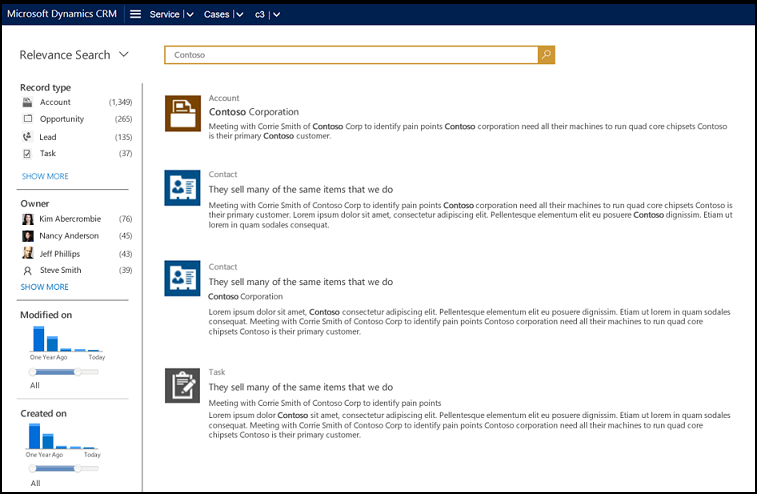 With new facet and filter support, you can drill into and explore search results without having to repeatedly refine the search terms. Four global facets for Relevance Search are shown by default on the left side of the Relevance Search results page. They represent Record type, Owner, Modified On, and Created On fields that are common to most Dynamics 365 entities, as shown below:
If you select a specific entity in the Record type facet, you will see a list of entity-specific facets that you can choose from. For example, if you select the Account entity, you may see additional information about the account's annual revenue, the industry they are in, and the primary contact information. The facet list is configured by an administrator. If you want to see different information, you can ask your administrator to provide that for you.
Other new capabilities:
You can now search in documents attached to emails and appointments, as well as documents attached to a note.
The Option Set and Lookup fields are searchable fields in this release.
We also added support for showing results for records that are shared with you.
More information: Use Relevance Search for faster comprehensive search results
Introducing editable grids
With the new editable grids provide many versatile capabilities, such as inline editing, grouping, filtering, and sorting on columns. Editable grids are available at the entity level, in sub-grids inside a form, or in a dashboard. Editable grids are supported on forms in the Dynamics 365 Web client, Dynamics 365 for tablets, and Dynamics 365 for phones. For dashboards, editable grids are available in Dynamics 365 for tablets and Dynamics 365 for phones.
Editable grid capabilities include:
Edit a row with most Dynamics 365 field types.
Group and filter on any column in the current view.
Sort on any column in the grid.
Paginate and move or adjust columns in the grid.
Show Lookup values based on the value of the field of the related entity.
Show Calculated and Rollup fields as read-only with the associated last updated date.
Enable and disable fields based on security role.
You can also:
Export editable grids to Excel.
Integrate with the chart panel.
Toggle between a read-only grid and an editable grid.
Save the user state (filters, sorting, adjusted columns) within the session.
Use business rules and complex grid logic based on events, such as saving or updating a record.
Use command bar actions and buttons.
More information: TechNet: Make grids (lists) editable using the Editable Grids custom control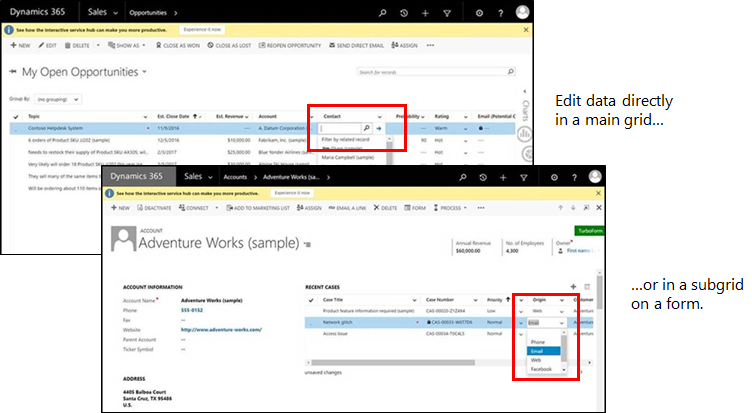 Is Microsoft Dynamics 365 for Sales Right For You?