Sage Intacct vs. QuickBooks: Best-of-Breed or Small Business Software
Ask small business owners what accounting system they are using and you'll most likely hear the same answer, "QuickBooks". This is not surprising since QuickBooks is often touted as the #1 small business software. It makes sense in a lot of ways. Business owners looking for ways to save money often eliminate their external accounting services in favor of QuickBooks' affordable point of entry. The software interface was created to be user friendly and the system speeds up accounting processes by automating bill payments, banking and processing customer payments. While all of these are strengths of QuickBooks, they're not the only financial management solution with these benefits.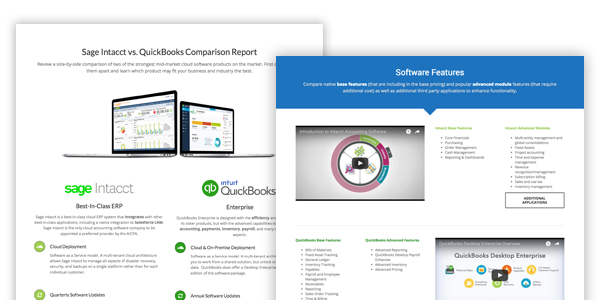 Sage Intacct vs. QuickBooks Enterprise Comparison Report
Review a detailed side-by-side online comparison of two of the top accounting products. Compare software deployment, industry strengths, features, implementation, pricing, reviews and more. Which software is right for you?
Scalable Solution
Whether you're researching software at start-up or when graduating to the next system, you have to keep one thing in mind: you want a product that can grow with your business. A scalable solution that allows you to add users, entities, locations, and modules on the fly when your business decides it is necessary.
Both QuickBooks and Sage Intacct provide this ability to grow along with your business. QuickBooks puts a cap on their user count at 30, while there are no user limits for Sage Intacct. In addition, Sage Intacct also provides different user licenses for your business user, project manager or employee, allowing you to only pay for the functionality your users need.
A key differentiation between the two solutions is a user's ability, based on security permissions, to access all entities and locations from one single login in Sage Intacct. Because of this ability, Sage Intacct's inter-company transactions are booked automatically, providing for simple consolidating reporting.
Both solutions provide the ability to connect with your current or future business systems by use of API calls.  The philosophy to provide open API calls lets you integrate your best-in-class accounting system and best-in-class operating system to truly create your ideal solution.
Reporting & Business Intelligence
Once your system is up and running, it should do more than just house your accounting transactions for your annual audit. It should provide real-time insights that allow you to make sophisticated business decisions.
Both Sage Intacct and QuickBooks provide dashboards and out-of-the box reports. A difference between the dashboards is that Sage Intacct allows you to create user and role-specific dashboards, allowing everyone from the tech savvy CEO to employees to outside CPA firms to access information valuable to their position as long as they have a license.
Another difference is QuickBooks has a pre-determined component list that is used to add or delete items from a dashboard. Sage Intacct allows you to customize dashboards by using pre-defined components or creating your own performance cards, charts, graphs, and work flow approval lists to assist people in effectively and efficiently monitoring and prioritizing their daily job activities all from one screen, updated in real-time.
As mentioned before, both systems provide out-of-the box reports. The main difference between the systems here is in regard to the custom report writer. QuickBooks allows you to customize reports by modifying reports based on pre-determined options. In contrast, Sage Intacct's report writer was created with the accounting department (not IT department) in mind and in combination with dimensions, Sage Intacct allows companies to slice and dice their data in whatever way is most meaningful to their business.
Deployment
And finally, choosing a software that was developed for the cloud allows you to eliminate the need for expensive capital investment, IT efforts, downtime for costly maintenance projects, and continued hardware, software and network monitoring and upgrades.
While both systems can be accessed from the cloud, there is a major difference between the two approaches. QuickBooks was developed for on-premise and has the option to be hosted in a cloud. While this still provides similar benefits to Sage Intacct such as, no longer needing to perform hardware maintenance and upgrades internally or worry about disaster recovery for your financial management system, there is a key benefit to choosing a multi-tenant cloud solution.
Since Sage Intacct was developed for the cloud, it is considered a multi-tenant solution. This means quarterly updates are seamlessly rolled out to all customers with no downtime necessary. All Sage Intacct's customers are always on the same version and the most recent version, automatically. Sage Intacct works to guarantee no upgrades break existing integrations, along with other guarantees like uptime, disaster recovery and data ownership all included in their But With Confidence Guarantee.
Summary
While QuickBooks definitely suits a specific consumer looking for a low-cost, easy to use solution, there are other important factors that should weigh into your decision when choosing your financial management system. When you're looking for a scalable solution that provides your users with the correct amount of access, easy to use dashboards and custom report writers anywhere they need to access your secured accounting information, consider Sage Intacct for your ideal financial management ERP solution.
At Cargas, we help growing and mid-sized businesses implement and integrate accounting, CRM and ERP systems. So if you're interested in learning more about Sage Intacct and cloud accounting software, please contact us today.
Sage Intacct vs. QuickBooks Comparison Report
For a more detailed comparison check out our Sage Intacct vs. QuickBooks Enterprise Comparison Report covering everything from software pricing, deployment, implementation, training and support options to industry strengths, company histories and software reviews.