Sage Intacct vs. FinancialForce: Which Is the Best Choice?
Sage Intacct and FinancialForce are two of the most well-known and popular accounting platforms for mid sized businesses. Both systems claim thousands of satisfied customers and build awareness in the SMB space with large advertising budgets. But which platform is right for your business? Read on to explore a few of the key differences between FinancialForce and Sage Intacct.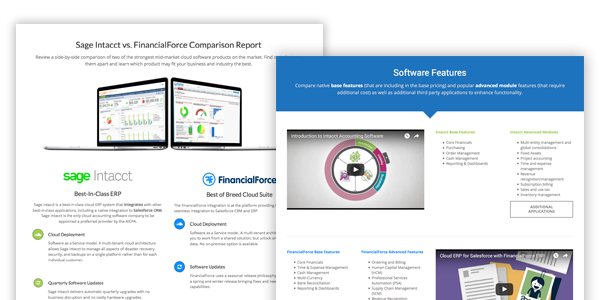 Sage Intacct vs. FinancialForce Comparison Report
Review a detailed side-by-side online comparison of two of the top cloud products. Compare software deployment, industry strengths, features, implementation, pricing, reviews and more. Which software is right for you?
Philosophy
The core philosophies of Sage Intacct and FinancialForce could not be more different. FinancialForce is essentially the accounting module of the SalesForce customer relationship management system. Because it is built on the Force.com platform, it is not possible to use FinancialForce without also using SalesForce. This means that if your organization uses Sugar, Marketo or any number of other customer database systems, FinancialForce might not be the best choice.
Even if you are currently using SalesForce, moving your accounting system to FinancialForce essentially locks you in to the SalesForce platform – making future CRM system changes costly and difficult.
Sage Intacct takes a different approach. Instead of focusing on building out a proprietary, interconnected software suite, Sage Intacct focuses on being a best-of-breed accounting and financial system. This way, Sage Intacct can focus 100% of their research and development energy on improving their software from an accounting, reporting and finance perspective.
Integration
Integration capabilities are another key point of difference between FinancialForce and Sage Intacct. Drawing upon the core philosophies described above, it is important to note that Sage Intacct has been purpose-built to integrate with other best-of-breed cloud software platforms and FinancialForce has not.
When using Sage Intacct's open platform, each division within your organization has the freedom to choose the best CRM, ERP, or other business management software for their particular need. Whereas FinancialForce locks customers in to a limited suite of proprietary platforms, Sage Intacct instead provides the ability to select the software tool that's best for each department.
Even better, thanks to a platform that has been programmed with the future in mind, Sage Intacct can be integrated with a wide variety of best-of-breed cloud platforms. It will also support future compatibility with almost any new cloud software that might be on the horizon.
Financials & Reporting
In any accounting software package, financial management and reporting features are of the utmost importance. And whether or not your accounting software easily provides insights into complex data is a critical consideration.
Sage Intacct features a unique multi-ledger system that makes it easy to track multiple currencies, multiple business entities and other complex financial workflows. FinancialForce, on the other hand, features a single ledger that does not scale easily as a businesses' structure and complexity grows over time. This is just one of the reasons that Sage Intacct was chosen as the preferred accounting platform of the AICPA.
Because it was developed as a component of the SalesForce.com platform, and not as a stand-alone, best-of-breed accounting system, FinancialForce does provide in-depth reporting and data management capabilities, but relies on SalesForce for out of the box standard reports. According to FinancialForce reviews, the reporting engine can be overwhelming for the average user to configure and learn.
Sage Intacct includes a wide variety of pre-built reports and offers a robust Flex Reporting engine. Flex Reporting allows users to build custom reports quickly and makes it easy to track important metrics without the need for a lengthy and costly report building process.
Summary
If your business is looking for a cloud-based accounting system, Sage Intacct and FinancialForce are both good choices. However, they present unique advantages and disadvantages that are important to consider.
As long as you understand the philosophical differences between the two companies and the differing features that the two platforms provide you will be well on your way to making an informed decision about which one is right for you.
At Cargas, we specialize in helping mid market business implement and integrate accounting, ERP and CRM systems. So please contact us today if you have questions about the benefits of cloud accounting or the Sage Intacct accounting system. We look forward to answering all of your questions and helping your business make the right choice!
Sage Intacct vs. FinancialForce Comparison Report
For a more detailed comparison check out our Sage Intacct vs. FinancialForce Comparison Report covering everything from software pricing, deployment, implementation, training and support options to industry strengths, company histories and software reviews.